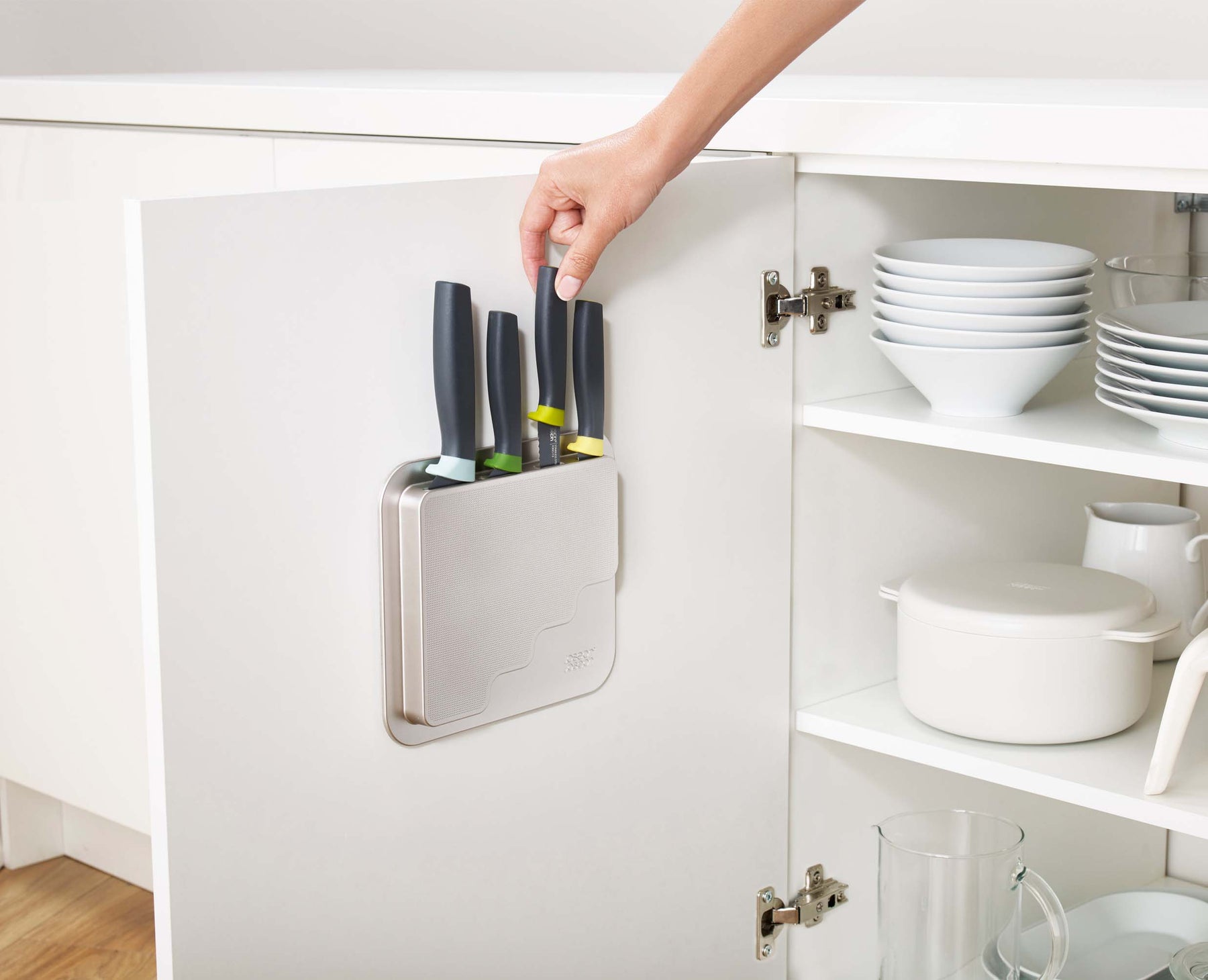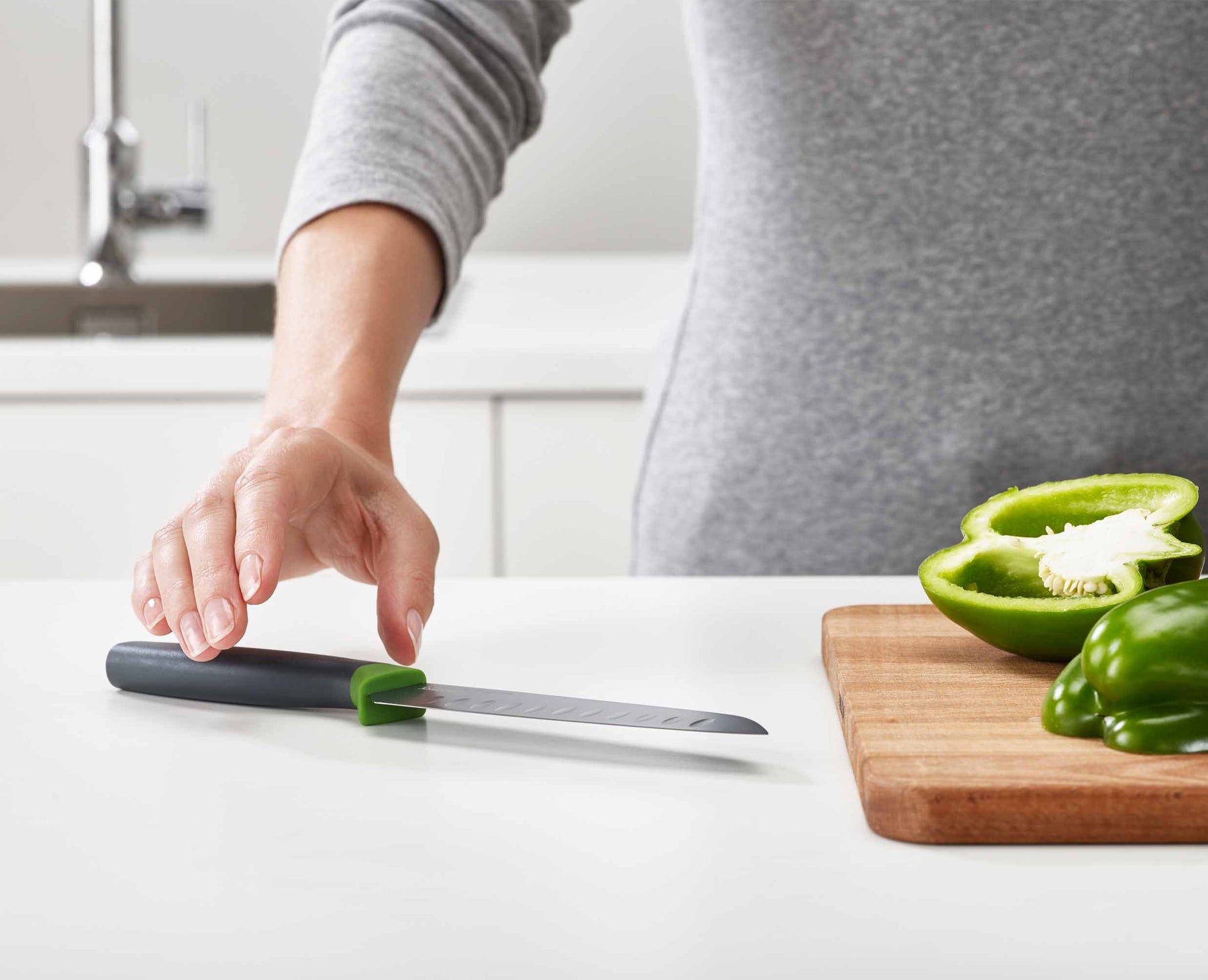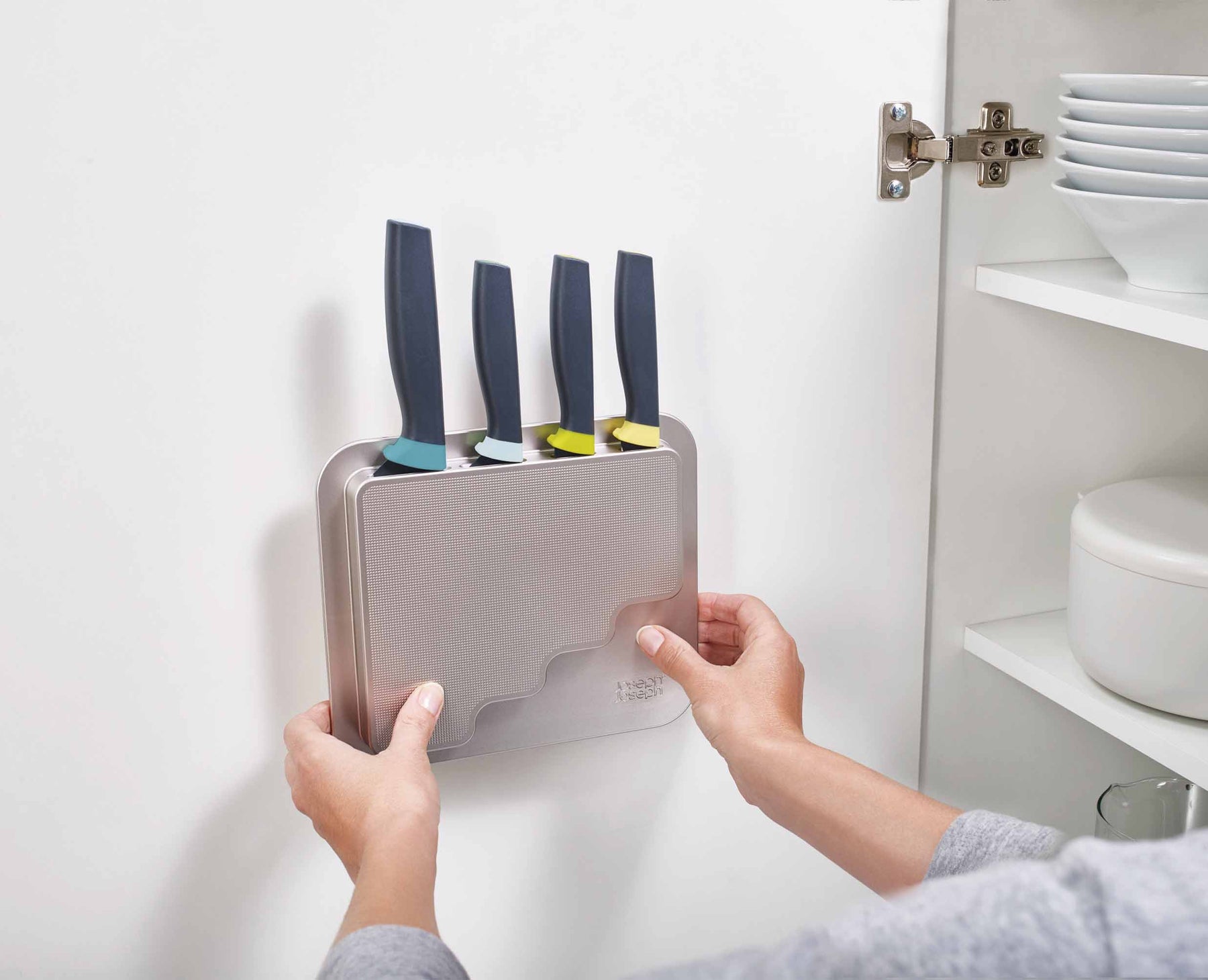 DoorStore™ Knives 4-piece Kitchen Knives Set
The finer details
This innovative set of 4 Elevate™ knives comes with a slimline storage case that is ideal for storing on the inside of your cupboard door.
Slimline storage case ideal for mounting in narrow spaces
Easy, tool-free installation using strong 3M™ VHB™ adhesive tape
Elevate™ knives feature weighted handles and integrated tool rests to prevent blades from touching the work surface when placed down
Blades made from stainless-steel with a non-stick silicone coating
Set includes: 3½" paring knife, 4½" serrated knife, 5" santoku knife and 6" chef's knife
This is an Age Restricted Item which you must be aged 18 or over to purchase. We use AgeChecked to conduct age verification during the order process using information you have given us. Please see our Privacy Policy for more information.
Details

The finer details

This innovative set of 4 Elevate™ knives comes with a slimline storage case that is ideal for storing on the inside of your cupboard door.

Slimline storage case ideal for mounting in narrow spaces
Easy, tool-free installation using strong 3M™ VHB™ adhesive tape
Elevate™ knives feature weighted handles and integrated tool rests to prevent blades from touching the work surface when placed down
Blades made from stainless-steel with a non-stick silicone coating
Set includes: 3½" paring knife, 4½" serrated knife, 5" santoku knife and 6" chef's knife

This is an Age Restricted Item which you must be aged 18 or over to purchase. We use AgeChecked to conduct age verification during the order process using information you have given us. Please see our Privacy Policy for more information.
Specifications

Care & use:

Knives - wash & dry by hand
Case - wipe clean
BPA free
Find the full instruction booklet here

 

Dimensions:

H2 x W31 x D22cm (H¾ x W12¼ x D8¾ inches)

 

Designed by Joseph Joseph

SKU: 10303

 
Shipping & Returns

We offer FREE delivery on orders of 50€ or more.
For orders under 50€, our delivery charge is 12€.
Delivery will take 3-5 working days.
For more information about deliveries, please visit our Delivery page.

Please note: Orders placed between Wednesday 27th and Friday 29th September may take slightly longer than our standard delivery times whilst we make some technical updates.

If you are unhappy with your order we will happily accept returns within 30 days. For more information about returns, please visit our Returns page.